Reception 2021 - 2022
Mrs Millington
Mrs Williams
Mrs White
Welcome to Reception 2021-2022
We warmly welcome you and your child to Reception and hope that you will find this class page useful throughout the year. We will regularly update the page with notices of forthcoming events and general messages. It will also include the areas of learning that we will be covering and activities that you might want to try at home to help support your child's learning.
Summer Term 1
Welcome to the third and final term of the Reception year! This is a very busy but lovely term, as we get to see how much progress the children have made. We have lots of exciting learning opportunities planned for the children, hopefully including a trip out for the day! More information will follow once we have secured dates for this.
In the coming weeks, we will be focussing on our own immediate environment and exploring other environments around the world. Through their own first-hand experiences, observations, books and maps, the children will compare and contrast different areas within the world. If you would like to send in any holiday photographs from the different places you have visited, please feel free and we will share them at carpet time. The children will also be following trails and maps and making their own maps of places that are familiar to them.
Some of the texts we will be using to enhance our learning include, What the Ladybird Heard and The Snail and The Whale, both written by Julia Donaldson.
Here are some online versions of these stories for you to share...
What the Ladybird Heard by Julia Donaldson The Snail and the Whale by Julia Donaldson
R.E.
In RE we will be thinking about belongning and which special groups we belong to, e.g. school, family, clubs and religions.
We will be finding out about what a what a Church is and why it is special to Christians.
We can't wait to visit St. Thomas of Canterbury Church in the coming weeks and explore the symbols we find there.
Maths
During this half term we are focusing on numbers to 20. The children will enjoy number games to help them recognise the numbers and we'll be practising counting to 20 and beyond. We'll be looking for patterns in the numbers, such as odd and evens. Doubles of numbers to up to 5 and number bonds (up to 5 and 10) will also be taught.
Phonics
The children are working so hard in Phonics and this half-term will be consolidating learning in Phase 3 and moving onto Phase 4. Many thanks for practising the sounds and words sent home as Phonics homework over the week's holiday. Don't forget to find related letter songs on YouTube if you search Jolly Phonics letter sounds. It is great for them to practise at home as this will support their reading.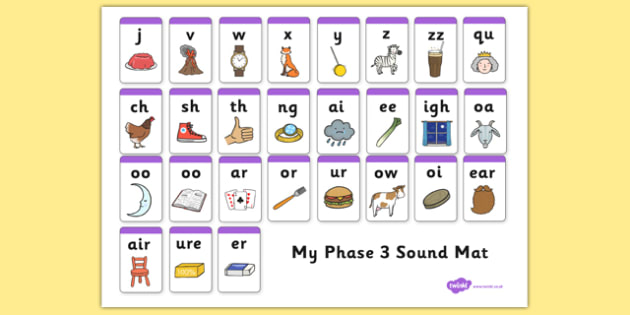 Please follow this link to watch a short video of the pure letter sounds. This will help you to pronounce the sounds correctly when supporting your child to read.
See the gird below for examples of words the children will be practising in Phase 4: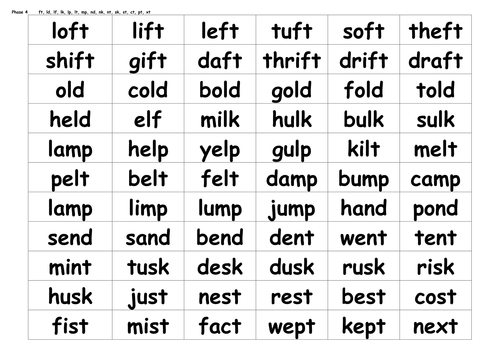 Phase 3 and 4 tricky words: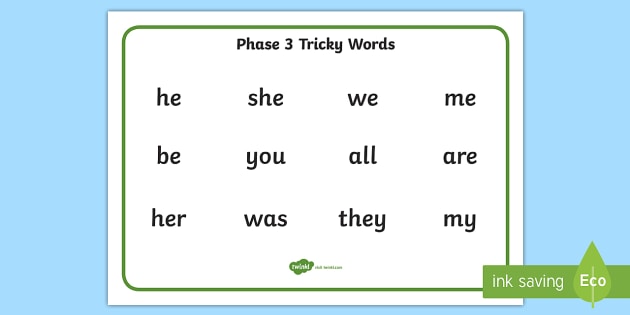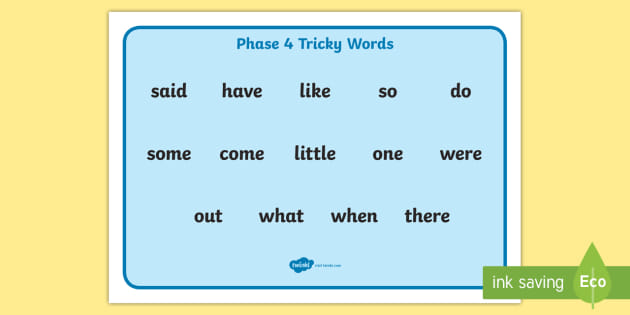 Reading
Please continue to listen to your child read each day. The children are practising their segmenting and blending skills in school but their progress is also dependent upon the amount of practise they do at home. We really appreciate your support with this. Reading books will continue to be changed each Monday and Thursday. Don't forget reading books and records need to be sent into school daily.
Many thanks for your continued support.
The Reception Team
Files to Download
Reception: News items
There are no News items to display
Reception: Blog items
There are no blog items to display
Reception: Gallery items
There are no Gallery items to display
Reception: Calendar items
There are no Calendar items to display